Holy Rood Cemetery is to be restored!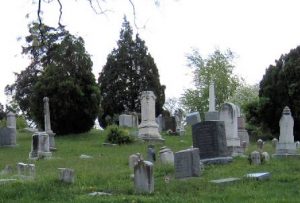 Holy Rood Cemetery, located at 2126 Wisconsin Ave. N.W. Washington D.C., is the location where many of the Kane and related families are buried.
Holy Rood Cemetery was established in 1832 by the Holy Trinity Catholic Church and was originally named Trinity Church Upper Grave Yard. It is owned by Georgetown University, which in the 1980's, made plans to disinter the bodies so they could re-purpose the land for other uses. Those plans were blocked by legal action.
Holy Rood Cemetery has suffered from long term neglect and has been in poor condition from that neglect. Some tombstones have been toppled or damaged, the cemetery overgrown at times from infrequent mowing and maintenance, and walkways in need of repair.
However, on November 13, 2018, Georgetown University announced their plans to restore Holy Rood Cemetery, by making needed repairs and enhancements to the cemetery.
We applaud the decision of Georgetown University to restore the historically  important Holy Rood Cemetery.
The following are parts of the Georgetown University announcement of November 13, 2018:
"Georgetown University appreciates the opportunity to collaborate with Holy Trinity Parish on this important work," said Rev. Mark Bosco, S.J., the university's vice president for mission and ministry. "The cemetery links our rich history not only with the Jesuit parish, but with the entire Georgetown community."
and
"Through our joint efforts, Holy Rood will become a Holy Garden where parishioners and others can pray for their deceased loved ones," said Holy Trinity Pastor C. Kevin Gillespie, S.J., "and where current and future members of our community can have a final resting place for their remains in this beautiful sacred space overlooking the city."
You can read the full November 13, 2018 announcement of Georgetown University restoration plans for Holy Rood Cemetery at: https://www.georgetown.edu/news/georgetown-and-local-catholic-church-to-restore-holy-rood-cemetery