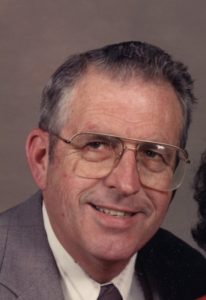 We are saddened to learn of the death of William Thorn Bono and extend our most sincere condolences to his family and friends.
The following is his obituary from the
Schaeffer Funeral Home
11 North Main Street P.O. Box 455
Petersburg, WV 26847
Tel: 1-304-257-4040
William T. Bono
February 28, 1931 ~ June 23, 2019 (age 88)
William Thorn Bono, age 88, of Petersburg, WV died Sunday, June 23, 2019 at Grant Rehabilitation and Care Center in Petersburg, WV.
He was born February 28, 1931 in Washington, DC and was the son of the late Evert Lee Bono and Vivian Eulalia (Thorn) Bono. Bill was a lifelong sports fan; he played golf for decades, coached and refereed youth league basketball, followed boxing & tennis, and held season tickets to the Washington Redskins for 40 years. He also loved music, from classical and opera to the Beatles.
In addition to his parents, Mr. Bono was preceded in death by three sisters, Vivian Bono Bryan, Anne Bono Rose and Ellen Bono McKenzie; two brothers, Evert Lee Bono Jr. and Henry Napoleon Bono. Mr. Bono was the last surviving member of his immediate family.
Mr. Bono is survived by his wife of 63 years, Sharon (Long) Bono of Petersburg, WV
Three Sons: Paul Bono of Gaithersburg, MD, James (Jane) Bono of Midlothian, VA and Christopher Bono of Rockville, MD.
Two Daughters: Cecilia Bono (Philip) Beach of Woodbridge, VA and Ursula Bono (Lawrence) Yeatman of Prince Frederick, MD
Thirteen Grandchildren and Eight Great Grandchildren.
Mr. Bono served in the United States Air Force from 1953-1955. He was employed by the Interstate Commerce Commission in Washington, DC for 36 years. He was a member of St. Mary's Catholic Church in Petersburg, WV and served on the finance committee. He was also past president of the former Petersburg Kiwanis Club.
Family will receive friends from 6:00 – 8:00 PM on Thursday, June 27, 2019 at the Schaeffer Funeral Home in Petersburg, WV.
Funeral Mass on Saturday, June 29, 2019 at 10:00 AM at Epiphany Catholic Church in Moorefield, WV. Burial will follow in St. Mary's-Epiphany Catholic Cemetery, Kessel, WV.
Google Map for Epiphany Catholic Church, Moorefield, WV.
Facebook page for Epiphany Catholic Church, Moorefield, WV.
Google Map for St. Mary's-Epiphany Catholic Cemetery, Kessel, WV.