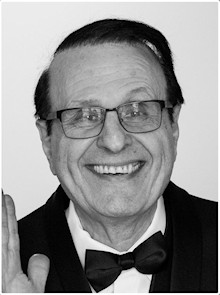 Earlier this year we were saddened by the loss of cousin Arthur Raymond "Art" Cresce, who died on February 14, 2019. "Art" and his wife "Betsy" had made a trip to County Cork, Ireland, and while there, made some genealogy research discoveries about the Hegarty family which helped correct some passed down verbal family history mistakes.
Below is his obituary from the Kalas Funeral Home & Crematory of Edgewater, Maryland.
Obituary for Arthur Raymond Cresce
Arthur Raymond "Art" Cresce, 70, of Davidsonville, MD, passed away on February 14, 2019 following a short illness. A native Washingtonian, Art was born on January 3, 1949 in Bethesda, MD to the late Anita and Arthur Raymond Cresce, Sr. He graduated from the George Washington University with a Bachelor of Arts degree in Latin American Studies. He earned a Master's degree in Demography from Georgetown University and a PhD in Economic and Demographic Policy Analysis from UMBC.
He retired from the U.S. Census Bureau after enjoying a successful 44-year career as a demographer. During his career, Art also taught on-line classes for the University of Maryland University College. After leaving the Census Bureau, Art taught mathematics at the St. Mary of the Assumption School and on-line classes for James Madison University. He was also employed as a contractor to perform data analysis for the Archdiocese of Baltimore.
Art was active in Toastmasters International, Knights of Columbus, Jesus the Good Shepherd Church, and Holy Family Catholic Church where he shared his rich baritone voice as a cantor and member of the choir. His other interests included gardening, home improvement and researching family history.
Art is survived by his loving wife of 45 years, Mary Elizabeth Toffolo-Cresce; two sons, Arthur V. (Catalina Salgado) Cresce of Beltsville, MD and Vincent (Susana) Cresce of Herndon, VA; two daughters, Nicole (Andrew Westhouse) Cresce of Charlottesville, VA and Elizabeth (Kyle) Montgomery of Fairfax, VA; two brothers, Lawrence Cresce of Culpeper, VA and Fred Cresce of New Castle, PA; two grandsons, Nicholas and Alexander Cresce and one granddaughter, Camila Cresce.
A Mass of Christian Burial will be offered on Thursday, February 21 at 11 AM at Holy Family Catholic Church, 826 W. Central Avenue, Davidsonville. Inurnment will follow at Resurrection Cemetery in Clinton, MD.
In lieu of flowers, the family requests donations to the Creutzfeldt-Jakob Disease Foundation at: https://cjdfoundation.org/donate
Online condolences and tributes may be offered by accessing the link in the left column of this page.