Although the O'Halloran family is not related to our branch of the Kane family in Ireland, yet, we thought their story is important because it gives the sad details about the evictions of poor Irish tenant families from their homes throughout Irish history by their landlords.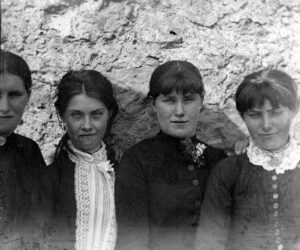 John O'Halloran and his family were evicted for failure to pay rent on their tenant home, which they built themselves, and their tenant farm on June 10, 1887 in Lisbarreen, near Bodyke, County Clare, Ireland, which was part of the estate of Col. John O'Callaghan. Their eviction was among many other evictions performed in June 1887 by the orders of Col. John O'Callaghan, the landlord. These evictions of June 1887, from the lands of Col. John O'Callaghan, are commonly referred to as the "Bodyke Evictions". Many of the tenants defended their homes against these evictions, among which was the family of John O'Halloran. Listed members of the resisting John O'Halloran family was his wife, Harriet, daughters Anne, Honoria and Sarah O'Halloran, and sons Frank and Patrick O'Halloran.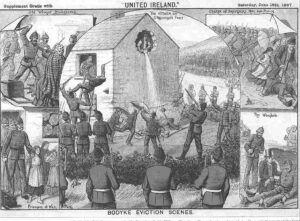 The John O'Halloran family tenant home was so well prepared against the expected eviction that it was referred to as "O'Halloran's Fort".
The following story of the John O'Halloran family eviction on June 10, 1887 is from the account of the son, Frank O'Halloran, as listed in The Irish Times newspaper issue of June 15, 1887, and also on file at the Clare County Library, Ennis, County Clare, Ireland. Continue reading "The John O'Halloran Family Eviction 1887 in Ireland"