Paul Tralles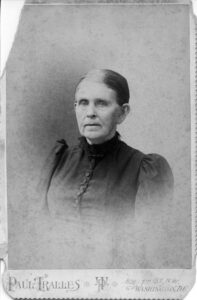 Paul Tralles was a professional photographer and took the photo of Catherine Hegarty Kane at his photo studio located at 808 7th St. N.W., Washington, D.C.
During the U.S. Civil War, he served as a musician with the 12th Regiment of the U. S. Infantry. He enlisted on 20 September 1861 and re-enlisted on 10 February 1864, serving throughout the U. S. Civil War.

Paul Tralles had various locations for his photo studio. Below is an advertisement about his new photo studio location:
The Evening Star newspaper, Washington DC, edition of Saturday, February 13, 1886:

SPECIAL NOTICES
PAUL TRALLES, PHOTOGRAPHER, has removed to 808 7th st. n.w.; will be ready to receive his patrons about the 17th of this month.
He was born on 18 August 1843 at Province of Schlesien, Province of Prussia, Germany.
He immigrated to the U.S. in 1853 and was naturalized a U.S. citizen on 09 January 1900 in Washington, District of Columbia.
He died on 07 December 1929 at Bonhomme, St. Louis County, Missouri at the home of his son.
He was buried on 10 December 1929 at Glenwood Cemetery, Washington, District of Columbia.
Below is his obituary:
St. Louis Globe-Democrat newspaper, St. Louis, Missouri, edition of Sunday, December 08, 1929, page 7;

PAUL TRALLES, FATHER OF ATTORNEY HERE, IS DEAD

Paul Tralles, father of Forest P. Tralles, St. Louis attorney, died yesterday at the home of his son on Denny road, St. Louis County, of the infirmities of age. He was 87 years old.

Besides Forest P. Tralles, he is survived by another son, George E. Tralles, a Denver attorney, and six grandchildren.

Mr. Tralles was born in Pennsylvania and moved to Washington, D. C., when a young man. He served in the Union Army for the duration of the civil war. He lived in Washington until eight years ago, when he came here to live with his son.

Services will be held Monday morning at 9 o'clock at the residence on Denny road and interment will be in Washington, D. C., Tuesday afternoon.